Hope Chest/How Knowledge Grows
Type drawers and found boxes, book cover from childhood religious book, collage from 1940's science textbook (how knowledge grows was a chapter heading), mixed media assemblage box with wishbone
44" high, 39" wide, 6" deep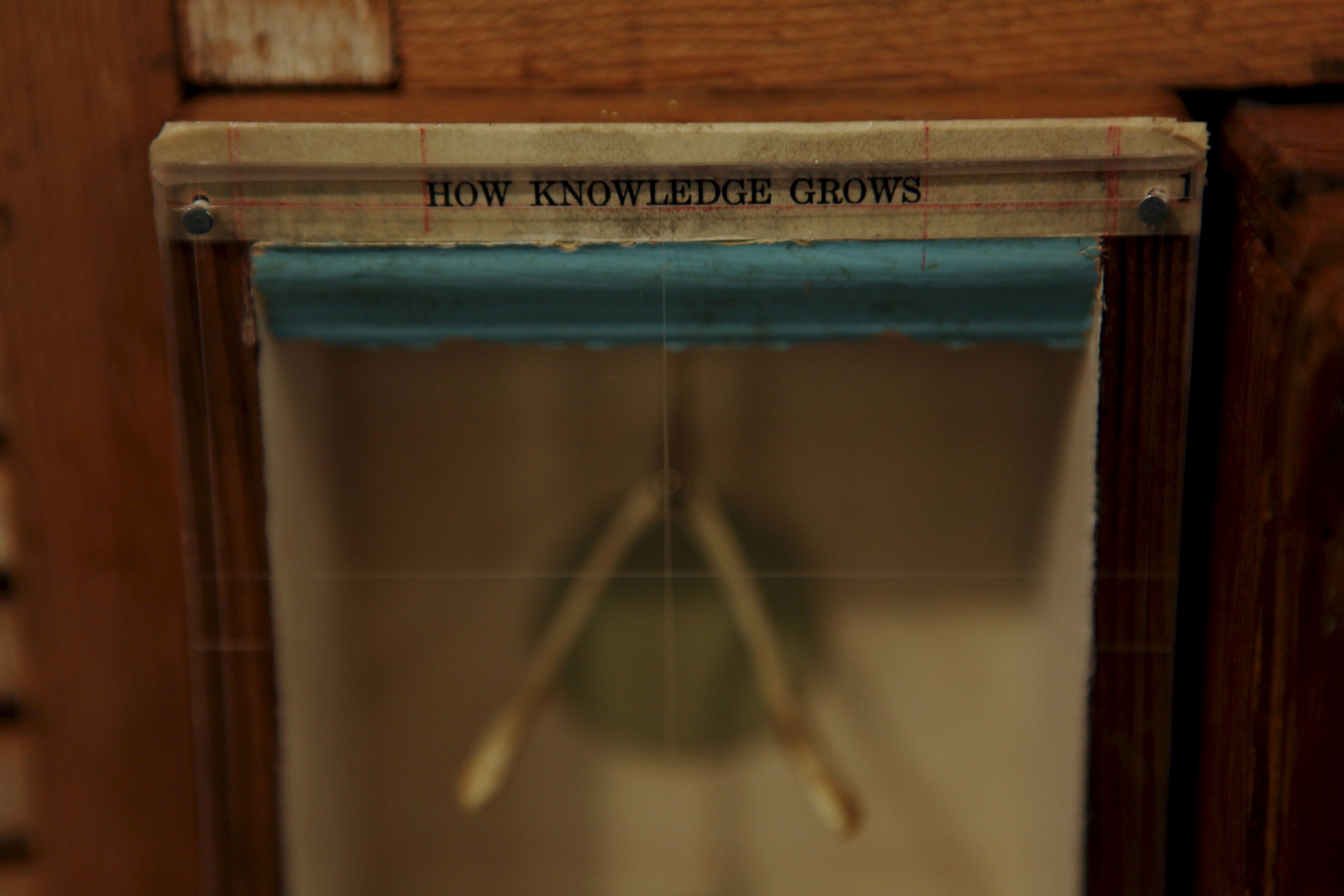 Hope Chest (detail)
Note about this piece: I was raised a Christian Scientist. When I was in 8th grade family moved to a remote rural farmhouse where as a shy high school student I began writing letters as a way to maintain contact with people. I also read a great deal to imagine other places and other ways of experiencing the world. Knowledge and understanding grow and accumulate in varied and sometimes unpredictable ways.
Blue Neutral (pansy dreams of spring)
Cigar box, pansy, bottles, paint brush, book binding thread, mixed media collage and hardware,
Since i started gardening about 16 years ago I have realized that my garden has become my creative space for several months of the year. My studio work happens primarily in the cooler months when the garden sleeps. They feed, balance and compete a bit with one another...like perennials.
Blue Neutral (pansy dreams of Spring) Detail
Weights/Waiting (detail)
lead fishing weights hang on book binding thread from type drawers.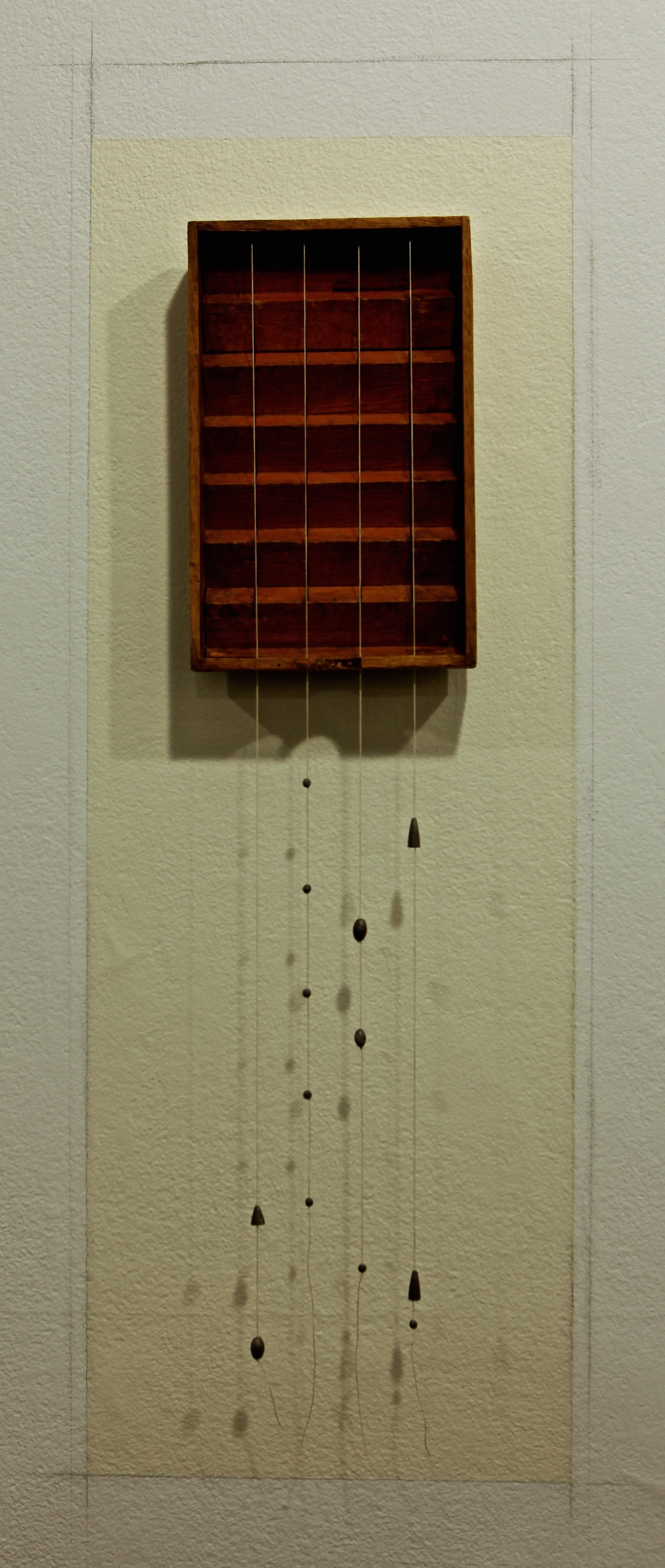 Weights/Waiting
Mixed Media assemblage with type drawer, linen book binding thread, Lead fishing weights...
14" wide, 30" tall, 2" deep
This piece was made with the Woodland Pattern gallery space in mind, where I have experienced magical readings and powerful experimental jazz/musical performances over the years.
White Sound I, II,
Wood, Encaustic, silk tissue, graphite, Cuckoo Clock Chain, etc
total size 12" wide x 24" high x 1.5" deep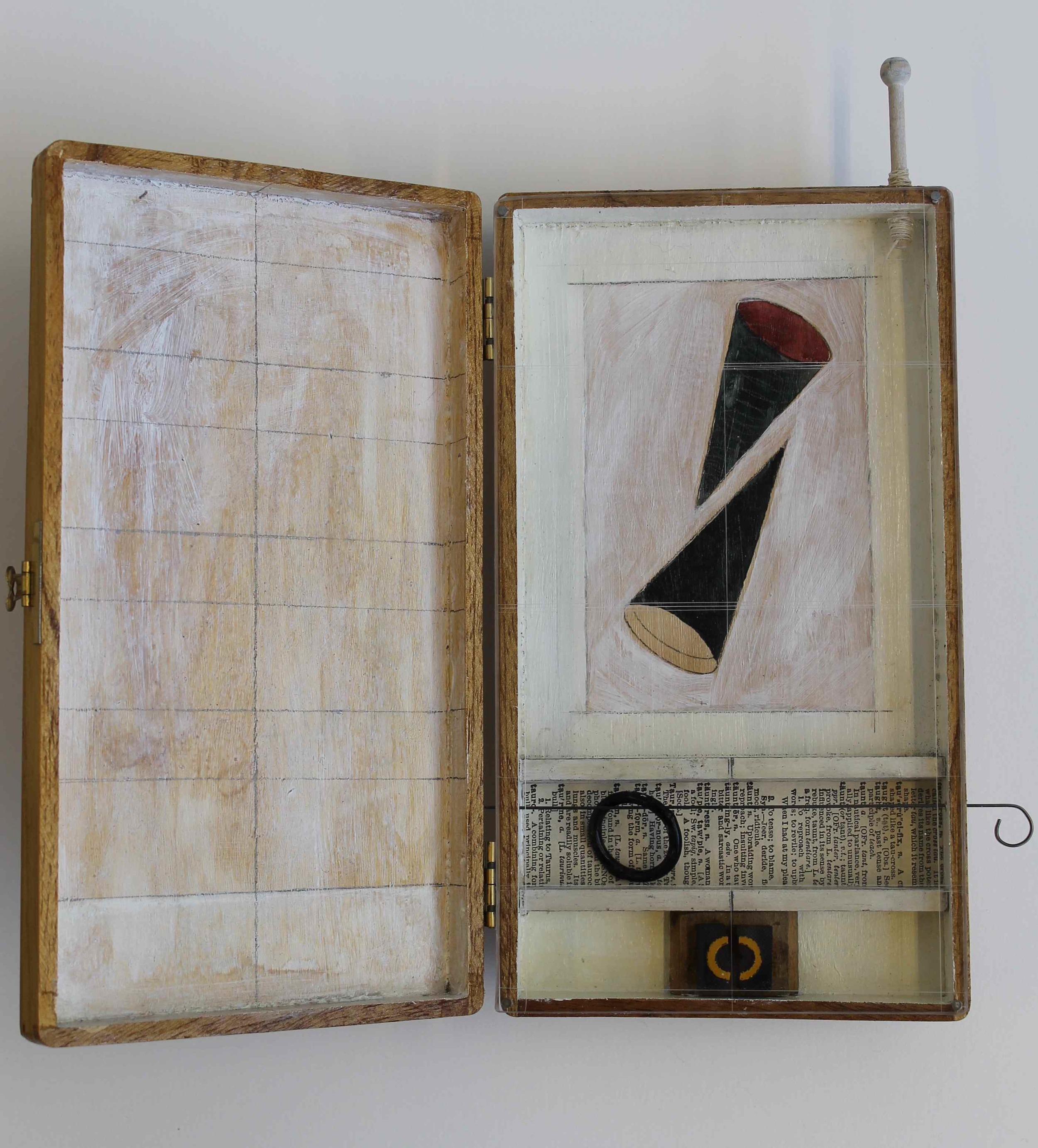 Turning and Turning
This piece is a response to the Yeats poem The Second Coming. "Turning and turning in the widening gyre" is the first line of the poem.
Mixed media assemblage box (cigar box, wood, miscellaneous hardware, game pieces, plexi, graphite, book binding thread, gouache, shellac), 11" high, 13" wide, 2 " deep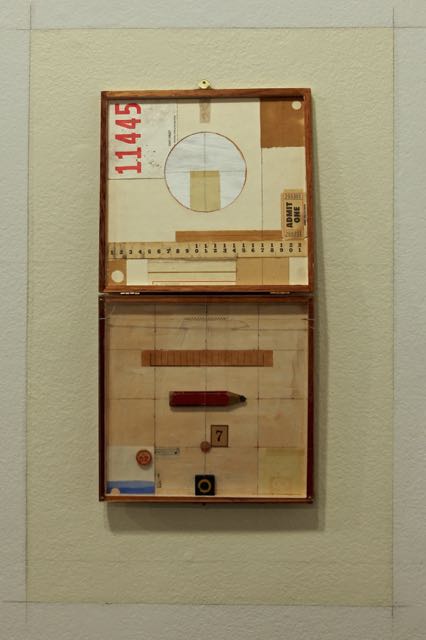 Seven (7)
Assemblage Box with graphite, collage elements, linen book binding thread, toy/game parts, dad's wood shop pencil.
10 x 20 x 2"
Note: I grew up in a family of 7 people, around an architect (dad) and loved architectural mark-making/sensibility, but never became an architect...
Seven (7) lower left corner detail
Assemblage Box with found objects, graphite, gouache, linen book binding thread,
10" wide x 20" high x 2" deep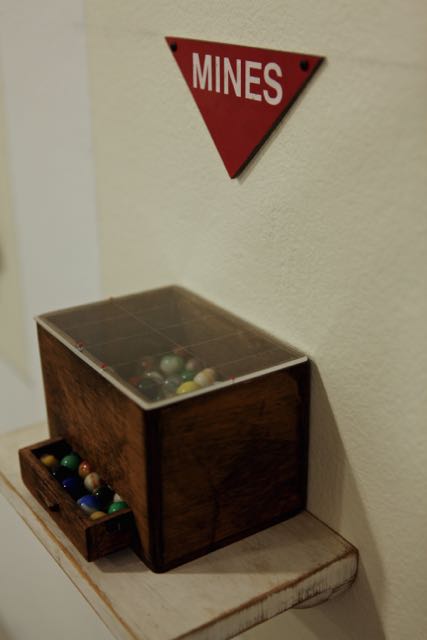 Mines (mine)
Assemblage with found objects and shelf
12" wide x 18" high x 6" deep
With its playful marbles and open drawer this piece alludes to some of the more serious aspects of life as well as the innocent and fun.
installation view of poem image/poem object at Woodland Pattern Book Center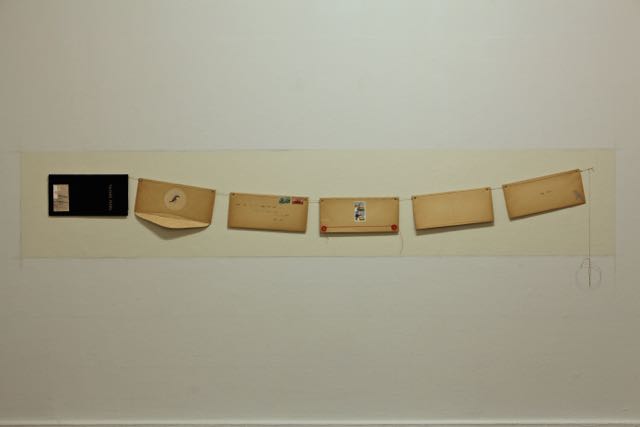 Valuable Papers (letters to you),
assemblage/collage with found envelopes, graphite, linen book binding thread, bees wax, gouache, collage elements, 47" wide 14" high
I think of this piece as a book of sorts...and a love letter.
Valuable Papers (letters to you) detail image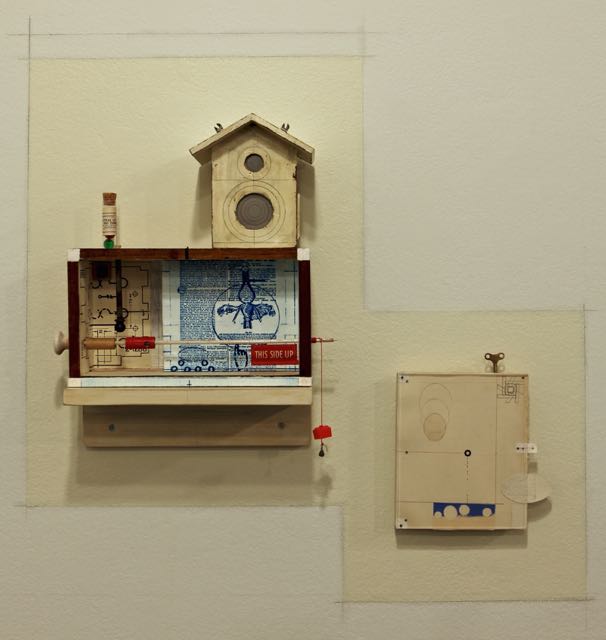 Little B (womb/wonder)
Found box, cuckoo clock housing, mixed media, intaglio print and collage additions, baltic birch, miscellaneous hardware, bookbinding thread,
30" x 35" x 6"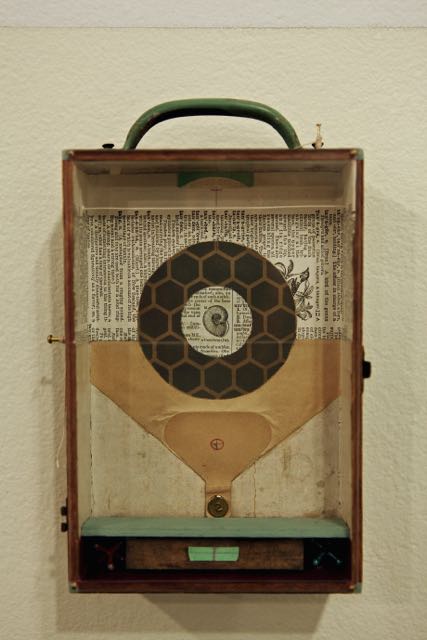 Umbillicus
Assemblage Box, found materials (hardware, antique linoleum sample page, dictionary page, player piano roll end, jacks) graphite, book binding thread, bees wax, mixed media additions
6" wide x 11" high x 4" deep
Umbilicus (detail)
I have long felt connection to the nautilus shell structure and have used it in my work for years. I found this dictionary illustration that called it an umbilicus. The honeycomb pattern around it came from pages of linoleum sample books that I discovered nailed up as insullation when I did demolition for a project on the attic wall of our 100 year old house.
Umbilicus (side angle view)
at Woodland Pattern Book Center
Umbillicus (detail)
Two Jacks occupy the lower chamber separated from each other by a piece of "furniture" (the wood pieces used to lock in lead type in typesetting/printing). I frequently use toy and game parts in my work...perhaps as a metaphor for a childlike spirit, the light of which still flickers inside us as we go through our adult lives or perhaps because of the memories that they elicit.
Calliope
Mixed Media Assemblage Box with found cigar box, acrylic and gouache, linen book binding thread, dictionary page, wooden balls, wood, collage elements.
Calliope was the goddess associated with poetry. It is also the name of a type of humming bird. I love both poetry and hummingbirds and was delighted to find this entry and engraving on a dictionary page connecting the two. A hummingbird sighting in my garden fills me with wonder.
Calliope (detail)
Calliope (detail)
Anomalies (serious game)
Mixed Media Assemblage (type drawers, chalk line, piano parts, coaster wheel, marbles, level, paint, collage elements, plexi)
50"x 38" x 2"
Lucky
Mixed Media Assemblage Box (found Lucky Strike packet fragment, cigar box, plexi, collage and mixed media
10" wide, 20 " high, 3" deep
Lucky (tension)....detail
12 x 6 x 3", mixed media assemblage box
Two Sides (schematic of quiet conflict)
Mixed media assemblage with casters, matchboxes, graphite, enamel, miscellaneous hardware, linen book binding thread, wood, etc. 12" w x 12" x 2"
Truth in Repetition (drawn line)
12 x 14 x 2" mixed media assemblage box
In the collection of Paula Schulze
Obscure With Fog (for ED)
This piece was made in response to an invitation by artist Chris Hewitt and Gallery 224 to create a piece about the Bachmann's Warbler, a bird that has not been seen since the late 1980s and is presumed extinct due to loss of migratory habitat. I researched the lost bird, listened to recordings of its song and felt a mourning for its loss. The text is from an Emily Dickinson poem that I know and love.